This week on #TheOtherSideOfTheBridge, we are bringing to you our Labor Day Edition. As we all know, Miami is known for its litty parties, especially for special holidays and events. Miami ALWAYS does it big. Because, c'mon- this is MIAMI-DADE COUNTY. We go hard or we go home. Labor Day weekend is NO exception. Now, I know you are all probably tired of the same ol same ol when it comes to going out and partying for special occasions, but we have some different venues for you to visit. Usually, this is the point where bloggers tell you about allllll the "fun," "exciting," "must be there" events happening on SoBe, but we have some venues you can visit on #TheOtherSideOfTheBridge.  These are events you can find in Wynwood, Overtown, and Downtown. They may seem like secondary locations to turn up and have some fun, but I promise they will deliver the same punch of fun that any event on South Beach will.
Day La Soul Day Party
SocialXchange presents this epic day party. The Day La Soul day party will be one to remember. It will be held at the E11even Rooftop, located at 29 NE 11 ST, in Miami's historic Overtown on Saturday, September 3. Overtown, featured on a previous blog on #TheOtherSideOfTheBridge, is one of Miami's oldest and most known neighborhoods. E11even Rooftop's popularity grows with each passing year. This day party is sure to be a good one. Plus, SocialXchange has as history of throwing EPIC events. Oh yea! The event will start at 6:30pm until whenever the good folk at E11even Rooftop kick everyone out. Once again, the party starts at 6:30pm. Not 6:45. Not 7:30. Not 8:00, but SIX THIRTY POST MERIDIEM.
Aquaholics Labor Day
If you love to sip and swim, this is definitely the event for you. This epic day pool party will be taking place Downtown at the Intercontinental Miami located at 100 Chopin Plaza. Believe me. SocialXchange knows how to put together an event. So, this will be a good time. The prices for this event run from $1.50 -$5. Now that is what you call balling on the budget. For those of us who like to have fun on a frugal dime (like me), this is most definitely an event you want to attend. Click here to get your tickets ASAP. They will not last long.
Chef Creole Labor Day Flex Event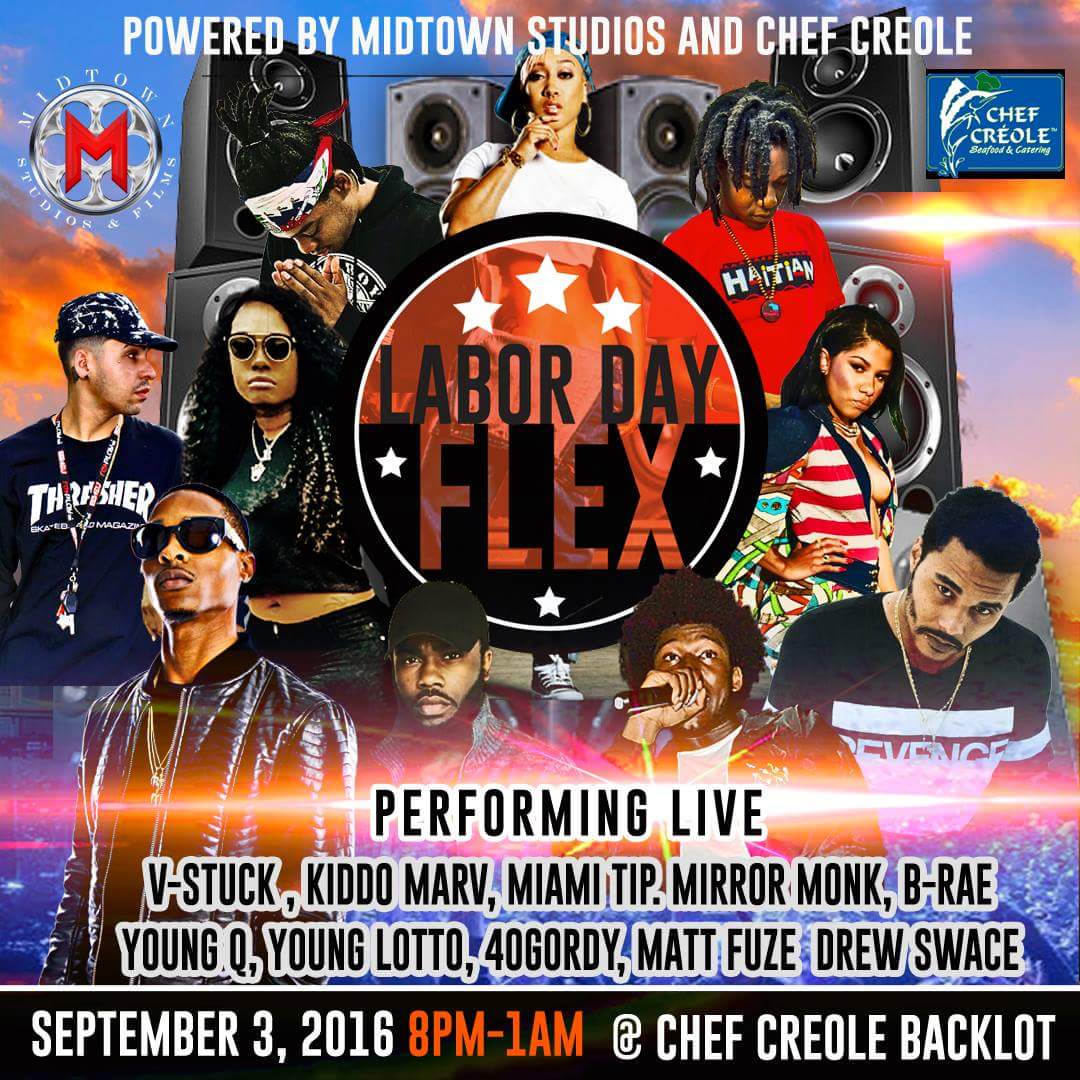 Chef Creole is showing this year for Labor Day! For their Labor Day Flex Concert, Chef Creole is bringing you live music, games, drinks, wet T-Shirt contests, plus more! Cannot tell me this won't be a good time. The Event will take place at the Chef Creole Back lot located at 200 Northwest 54th Street in Little Haiti. This is a must attend event that you do not want to miss. Oh, yea. FOOD! Chef Creole is providing some f ther bomb food. This is honestly such a great deal for the $10 admission fee. Click here to RSVP for the event. Claim your spot before its TOO late!
Urban Film Festival
Starting Thursday, September 1 until  Monday, September 5, the Urban Film Festival will be taking place in your backyard. The Urban Film Festival is a five day event "focusing on educating, exposing, and providing distribution opportunities for the new generation urban filmmaker." The Urban Film Festival will be taking place at 570 NW 26 St in Miami's Wynwood neighborhood. The film festival can be visited every day from September 1 until September 4 from 2pm through 10pm. Click here to claim your tickets to this prominent festival. Any filmmaker should make the effort to be here.
Yoga and Happy Hour: The Bar @ 1306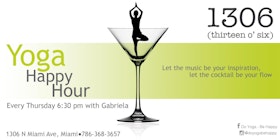 This Thursday, well, every Thursday really, The Bar at 1306 is throwing its Yoga Happy hour. This is not your typical yoga session. Believe me. You come come visit The Bar at 1306 Thursday's at 6:30 pm. They provide different music for you to groove to as you get your body right. Yoga is more than stretching. You can read about some of the more popular benefits of yoga here. In addition to getting yourself physically fit, it is also happy hour. Each person participating in the yoga event gets 50% off their first drink. Yoga and wine? SIGN ME UP! Click here to buy your ticket and learn more about the event.
Quick history lesson on Labor Day: According to the United States Department of Labor, " [Labor Day] is a creation of the labor movement and is dedicated to the social and economic achievements of American workers. It constitutes a yearly national tribute to the contributions workers have made to the strength, prosperity, and well-being of our country." It may not be an economic one, but it would definitely be a social achievement for y'all to show up on time.
That's it for this week on #TheOtherSideOfTheBridge !
Written By: LaTrisha Rowe, Research and Development Coordinator | Latrisha@muce305.org
Instagram| MUCE305
Twitter| MUCE305
Facebook| MUCE305